Game Boy Advance SP was a complete overhaul of Nintendo's original GBA. Released in Japan on February 14, 2003 (Valentine's Day), the GBA SP included significant improvements that brought the original system up to date: New aesthetics with a folding case, front-lit screen and lithium battery, thus prolonging the life and success of the system.
The GBA SP (Special Project) was positioned from the start as the high-end GBA, achieving spectacular sales of more than 43 million consoles throughout its life. More than 20 years after its launch, the portable console has had a second youth as a retro console, thanks to collectors and modding.
COMPANY:
Nintendo
CONSOLE GENERATION:
6TH GENERATION OF CONSOLES
RELEASE DATE:
February 14, 2003 in Japan
March 23, 2003 in North America
March 28, 2003 in Europe
GAMES CATALOG:
1,538 GBA video games (including budget and classic versions)
1046 original Game Boy (compatible)
915 Game Boy Color games (supported)
SOLD UNITS:
43.5 million units worldwide
LAUNCH PRICE:
9,800 yen
PROCESSOR:
32-bit CPU (ARM7TDMI 16.78 MHz) for GBA
8-bit CPU (Z80 custom 4.2/8.4 MHz) for GB and GBC
FORMAT:
Cartridge
BUY IT ON EBAY:
https://ebay.us/aAEUQy
Game Boy Advance SP
Two years after launching the GBA portable video game console, Nintendo surprised locals and strangers with a new portable, a revision of the GBA that improved the original console in such important aspects as the following:
New design with folding case: Nintendo reduced the size of the console making it fit comfortably in your pocket, while returning to its origins from the Game & Watch era. All a success of design that protected our screen from scratches and chafing.
Front-lit screen: One of the great shortcomings of the original GBA was the lack of a front light or backlight on its screen. In the 21st century, the girl still needed a flashlight to play hide and seek under the duvet… Nintendo finally corrected this lack and introduced the front light, which reduced the game time due to higher battery consumption, but which was accepted with great pleasure.
Lithium battery: Due to the explosion of the mobile phone industry, Nintendo was able to take advantage of new advances in the field of batteries and include a rechargeable lithium battery, without this affecting the final price of the console, being a breakthrough of giants at a time when batteries, unlike today, were expensive… very expensive.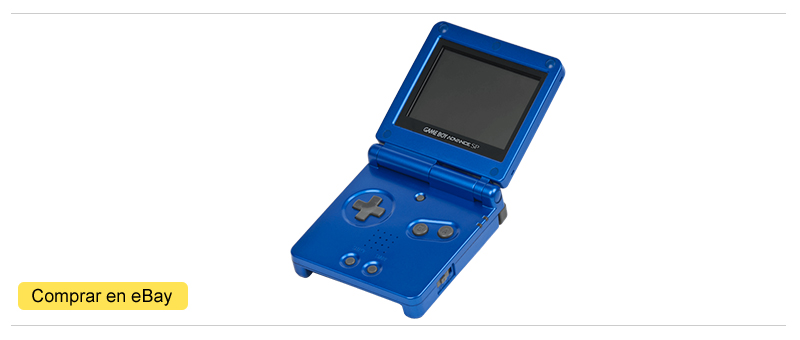 As we can see, regardless of the aesthetic tastes of each one, the improvements in this GBA SP were very significant, highlighting above all the lithium battery: After many years, we could finally say goodbye to batteries, we players left to pay a toll for hours of play and we welcomed a new era in which, in addition, the electricity was paid by our parents. Magical…
Hey! Before continuing, we strongly recommend that you read the main article on the Game Boy Advance system, a dedicated (and well thought out) article on Nintendo's 32-bit handheld console: The original Game Boy Advance.

There you will find all its history, background, modding and the very development of the system according to its own creators. We wait for you!
The GBA SP, thanks to its notable improvements, managed to position itself as the high-end of the GBA system, since its launch being the version preferred by most players. By sharing a video game catalog with its predecessor, most of its games respond to 16-bit aesthetics and dynamics, even having games that are far superior to the domestic systems of the 16-bit era and one of the best catalogs in the history of portable consoles.
The second youth of the GBA SP
In recent years, the GBA SP has gone from being a console that we could easily find in the groceries of our cities at ridiculous prices, to becoming a coveted piece of desire for all collectors and nostalgic gamers. And there really is no lack of good reasons, the Nintendo GBA system was the culmination of a golden age of video games, that of 16 bits. A time remembered with love and nostalgia by all those who were lucky enough to live and enjoy it.
By sharing a large part of the catalog and sagas with the Super Nintendo, the console itself is a tribute to the 16-bit Era in which its games and sequels go smoothly thanks to its 32-bit "power". The GBA takes 2D gaming and pixelated graphics to new heights in the portable arena. And now, let's do the formula:
Game Boy 2 + 16-bit + 2D + Pixel + backwards compatibility = PURE NOSTALGIC RETRO LOVE
Good retro love, that's what the Game Boy Advance SP awakens to all pixel lovers, the GBA SP is the quintessential retro console and has become a true object of desire for all retro lovers. As if that weren't enough, in recent years modding has merged with retro to create the ultimate retro experience:
The Internet has been plagued with kits to modify our old GBA SP, finally saving its greatest lack: Its screen without backlighting. For just over 40 euros we can buy a kit that includes a new casing and a brand new backlit IPS screen, with brightness and image quality at the height of the year 2022, which will make our GBA SP the ULTIMATE console.
With these modifications, not only will we be able to enjoy the GBA video games, but we will finally be able to play the entire catalog of the original Game Boy and Game Boy Color as God intended, on a luxurious screen. If you are interested we leave you with a link to eBay: Buy Game Boy Advance IPS backlit screen kit
The Game Boy Advance SP AGS-101, the best GBA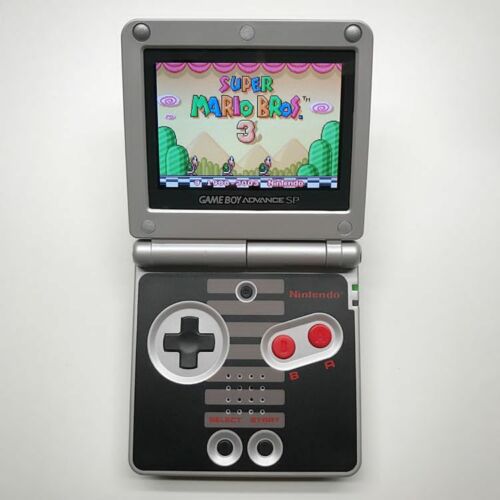 Although today modding and nostalgia have managed to revive a console that seemed to be dead, inexplicably in September 2005 Nintendo created the best Game Boy Advance exclusively for the North American market: The Game Boy Advance SP AGS-101.
The GBA SP AGS-101 is an Advance SP with a backlit screen of a quality very similar to that used in the Game Boy Micro, that is, the definitive official GBA, the best version of the system and with an overwhelming launch price: $79.95, a real madness.
And now let's think… what the hell was Nintendo thinking? September 2005, the Nintendo DS was already on the market and was their main portable system, so the GBA had to be liquidated. But no, Nintendo not only did not liquidate the GBA, but also launched the Game Boy Micro and surprisingly, without anyone expecting it, the best version of the GBA, the GBA SP AGS-101 only for the North American market… Inexplicable .
But it did, Nintendo did and that's the important thing, it launched this unicorn, this backlit diamond, this museum piece that today is one of the most coveted consoles for the use and enjoyment of thousands of collectors. The perfect official laptop for all retro lovers. If you have been bitten by the bug and want to know how much a GBA SP AGS-101 costs, here is the link: Buy Game Boy Advance SP AGS-101.
The price of the original Game Boy Advance SP
How much did a Game Boy Advance SP cost? Nintendo launched the GBA SP for a suggested price of 9,800 yen in Japan, but at Infoconsolas we like to contextualize it so that decades later we can get an idea of ​​what that amount of money represented at the time of its launch, here are the prices of the system GBA SP next to its competition:
| | | | |
| --- | --- | --- | --- |
| CONSOLE | LAUNCH | LAUNCH PRICE | BRAND |
| Game Boy Pocket | 1996 | 6.800 yenes | Nintendo |
| Game Boy Light | 1998 | 6.800 yenes | Nintendo |
| Game Boy Color | 1998 | 8.900 yenes | Nintendo |
| Neo Geo Pocket | 1998 | 7.800 yenes | SNK |
| WonderSwan | 1999 | 4.800 yenes | Bandai |
| Neo Geo Pocket Color | 1999 | 8.900 yenes | SNK |
| New Neo Geo Pocket Color | 1999 | 6.800 yenes | SNK |
| WonderSwan Color | 2000 | 6.800 yenes | Bandai |
| Game Boy Advance | 2001 | 9.800 yenes | Nintendo |
| SwanCrystal | 2002 | 7.800 yenes | Bandai |
| Game Boy Advance SP | 2003 | 9.800 yenes | Nintendo |
| Nintendo DS | 2004 | 15.000 yenes | Nintendo |
| Sony PSP | 2004 | 19.800 yenes | Sony |
| Game Boy Micro | 2005 | 12.000 yenes | Nintendo |
As can be seen, in a period of 2 years Nintendo managed to offer a much more elaborate product than its first GBA, for exactly the same price to the public, one more example of how technology advances and lowers production costs, making it possible launch superior models for the same price.
Collecting the Nintendo Game Boy Advance SP
At Infoconsolas we always ask ourselves the same question: Is it worth collecting this or that console? So that we are going to deceive ourselves, normally the answer is always affirmative, it is what it takes to be in love with consoles and video games, but in the case of the GBA SP… The "yes" is more than justified.
We will not list again its many virtues or possibilities, honestly it is not necessary, the Game Boy Advance SP should be in any self-respecting collection, that easy. The possibility of being able to play the entire catalog of the original Game Boy, the Game Boy Color and the GBA itself, is already more than enough reason to search and capture it.
Our recommendation is that, regardless of the type of your collection, you get a unit with a view to improving the screen by integrating an IPS, the experience is definitely worth it (in Infoconsolas we have 2).
Fortunately, there are millions of units in good condition, so the market is full of units, so it will not be difficult to get a console in good condition to play (although its price goes up like foam). As we always recommend, first spend a few days to find out how the market is and, once we know the appropriate prices according to the state of the console, we have the patience to make a good purchase.
Buying a second-hand Game Boy Advance console
Where can we buy a Game Boy Advance SP? Being a relatively modern console, there are many units available, so you will still find them in second-hand stores and from time to time in a flea market. Over the years and the rise of retro fashion, the sector has become more professional on the Internet, so we can forget about wallapop or similar bargains…
For our part, as we always recommend a trusted platform such as eBay, here we leave you with our banner, which will take you to a list with the updated prices of the Game Boy Advance SP available throughout eBay: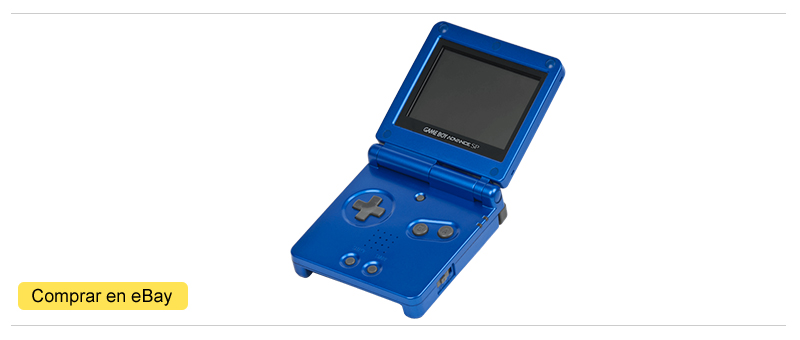 As you may have seen, modified GBAs predominate among the consoles, being a widespread practice and a real business for many people. You decide if you start with the original console and modify it later (cheaper) or go directly for an "ultimate portable console", it's up to you, good luck in your search!
STOP COLLECTOR! If you've seen the console listing on eBay, I want to say THANK YOU. Since 2004, the objective of Infoconsolas is to contribute to preserving the history of consoles and video games through our own collection of systems and the hours of work invested in this very website.

Being an eBay partner listing, if you buy a game or console, you will be helping Infoconsolas in the preservation of video game culture, so thank you very much again!
TOP: Best Game Boy Advance Portable Games
Once again, from Infoconsolas we offer our most humble tribute to Mr. JARM, sharing with you one of his GBA videos: The 20 best GAME BOY ADVANCE games of all time (THE DEFINITIVE TOP).
We couldn't have done it better, 13 minutes in which Jarm reviews the best Game Boy Advance video games in any of its models, arguing one by one the reason for such an arduous task, selecting the 20 best games on a platform like the GBA .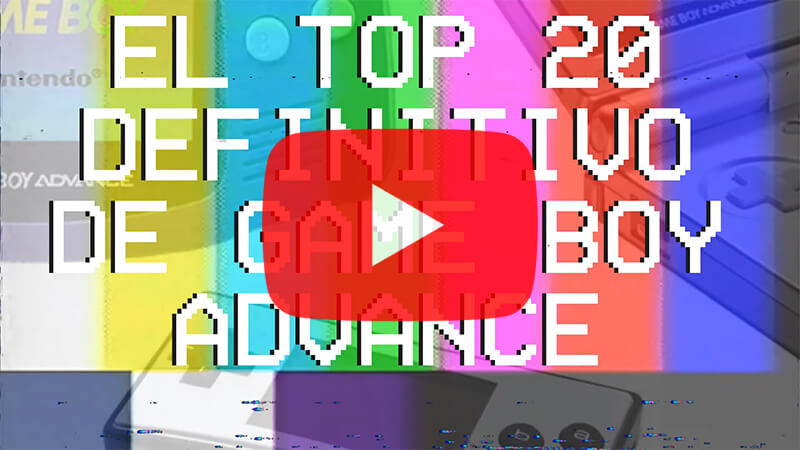 FAQ Game Boy Advance SP
Below we show the main questions and answers that the girl makes regarding the Game Boy Advance SP:
Is the Game Boy Advance SP compatible with the Game Boy Micro and original Game Boy?
Yes.
Is the Game Boy Advance SP compatible with previous Game Boys?
Yes.
What models of Game Boy Advance SP exist?
Two, the original GBA SP and the GBA SP AGS-101 with the brighter screen.
How many video games were released for the Game Boy Advance SP?
There are a total of 1,538 video games for the system.
What format did the Game Boy Advance SP use?
Cartridges.
How many bits does the GBA SP CPU have?
Its CPU is 32-bit, despite the fact that many of its games have 16-bit aesthetics.
How much did a Game Boy Advance SP cost?
9,800 yen upon release in Japan.
Is the Game Boy Advance SP screen backlit?
No it is not, it has a front light that illuminates the screen.
Can the Game Boy Advance SP display polygonal graphics?
Yes, but the hardware of the console is focused on 2D.
When was the Game Boy Advance SP released?
February 14, 2003 in Japan, March 23, 2003 in North America, and March 28, 2003 in Europe.
How much does the GBA SP weigh?
142 grams.
Does the Game Boy Advance SP fit in a pocket?
Yes, being foldable it fits perfectly in a pocket.
What was the last GBA SP game?
Samurai Deeper Kyo, released on February 12, 2008.
When did Nintendo end support for the GBA SP?
In June 2012.
Did the GBA SP have a successor?
The Game Boy Advance Micro was later released. The next console was the Nintendo DS.
Which GBA model is better?
In terms of screen and battery quality, the GBA Micro. Precious.
Technical characteristics of the GBA SP portable video game console
Here are the specifications for the Game Boy Advance SP, based on original data from Nintendo:
Measurements: 84.6 mm wide x 82 mm high x 24.3 mm thick (folded).
Weight: 142 grams.
Format: Cartridges.
Display: 2.9-inch reflective TFT liquid crystal display (LCD).
Screen size: 40.8 mm x 61.2 mm.
Frames per second: 59.72 Hz.
Resolution:
– GBA: 240 x 160 pixels (3:2 aspect ratio).
– GB: 160 x 144 pixel, when there is a blank space, the screen can be enlarged with LR.
Color: 15-bit RGB. 512 simultaneous colors in "character mode" and 32,768 simultaneous in "bitmap mode".
CPU:
– 16.8 MHz 32-bit ARM7TDMI with onboard memory for GBA games.
– Sharp LR35902 (8080 variation) at 8388 or 4194 MHz for GB and GBC backwards compatibility.
Memory:
– RAM: 32k bytes (CPU internal memory).
– DRAM: 256k bytes (CPU external memory).
– RAM: 96k bytes (CPU internal memory).
Power supply: lithium battery.
Lithium battery life:
10 hours with the light on.
18 hours with the light off.
Battery charging time: 3 hours.
Entrance exit:
– 8-way crosshead.
– Buttons A, B, L, R, Start, Select.
– Volume control.
– On/Off button.
– Link cable, charger input, headphones.
External sources and links