Turbo Express in the United States and Europe, PC Engine GT in Japan, is the portable PC Engine that NEC launched on the market in December 1990. Unlike the rest of contemporary portables, the Turbo Express was not really a new console, but a TurboGrafx / PC Engine made portable.
This fact positioned the Turbo Express as the "Rolls-Royce" of portable consoles, a machine compatible with the entire catalog in card / HuCard format of TurboGrafx and PC Engine desktop consoles, backlit full color screen, 16-bit graphics … This is possibly the best laptop of all time!
| | |
| --- | --- |
| COMPANY: | NEC |
| CONSOLE GENERATION: | FOURTH GENERATION |
| RELEASE DATE: | December 1, 1990 in Japan |
| GAMES CATALOG: | 277 videogames (HuCards) |
| SOLD UNITS: | 1.5 million worldwide |
| LAUNCH PRICE: | 44,800 yen |
| PROCESSOR: | HuC6280 at 1,79 or 7,16 MHz |
| FORMAT: | HuCards |
| BUY IT ON EBAY: | https://ebay.us/dux8KG |
PC Engine Express / PC Engine GT
Portable PC Engine, this is the first concept that must be totally clear from the first moment. Given the natural tendency of hardware companies throughout history to develop portable consoles with lower features than their older sisters, subsequently making conversions and adaptations conditioned to performance limitations, NEC (Nippon Electric Company) chose to launch in 1990 a portable PC Engine, with all that that represents:
Having the portable console that you used to play in your living room, in the palm of your hands, with the same catalogue, with the same graphics and sound, a state-of-the-art machine with 16-bit graphics converted to a portable… A similar concept to that of the Nintendo Switch, but almost 20 years earlier. Never before has a video game company ventured to "portable" its current main console. Incredible.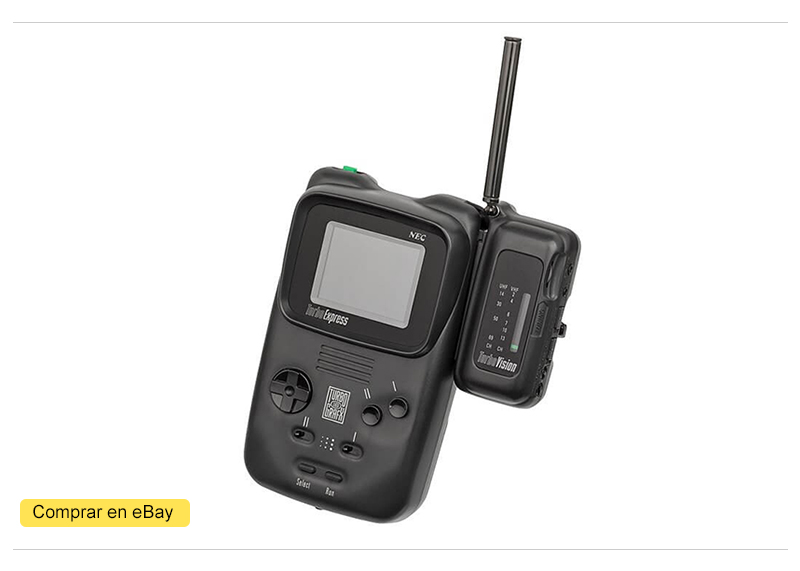 The sad duality. Duality is the second concept that we must clarify in the face of doubts and illusions: The Turbo Express / PC Engine GT is not a Region Free console, in the Turbo Express we can only play TurboGrafx games and in the PC Engine GT we can only play the HuCards from the Japanese PC Engine. This decision prevents us from enjoying the entire catalog on the same portable console, at least in an official way.
Hey! Before continuing, if you want to become a true expert in the vast retro PC ENGINE universe, we strongly recommend that you read the dedicated (and well thought out) article on the system's main console: NEC's PC Engine.
Turbo Express / PC Engine GT, NEC's portable console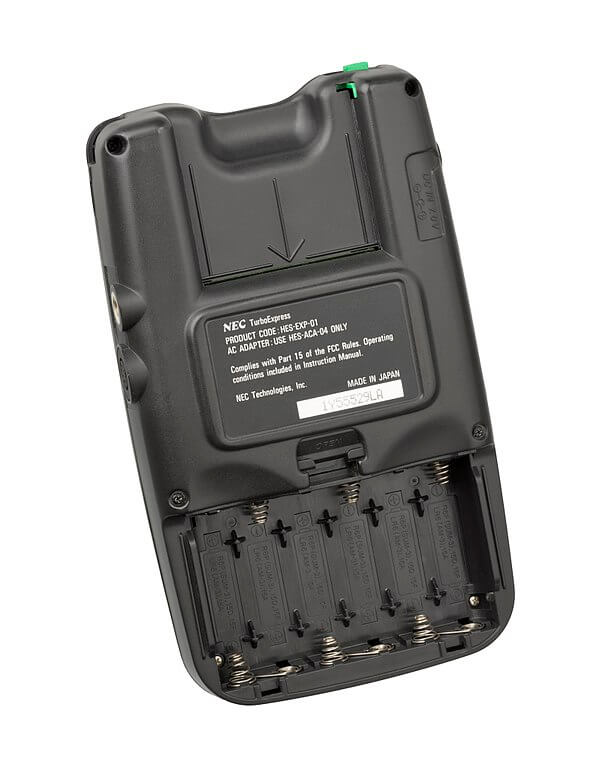 The PC Engine GT (Game and TV) was launched by NEC Home Electronics on December 1, 1990 for a price of 44,800 yen, dislocating all the competition due to the technical advance that it implied: Just 1 month after the launch of the Snes in Japan, NEC technologically overtook them on the right and launched their desktop console in portable mode.
Compatible with the entire HuCard catalog of PC Engine or Turbo Express desktop consoles, except Super Grafx, it was launched in the Japanese, North American and European markets, its initial objective being to compete against Nintendo's Game Boy, a console that was immersed in the conquest of the portable market worldwide.
With a bright active full color backlit display, image quality was far above its theoretical competitors. The price to pay was the consumption of batteries, 6 AA batteries lasted us approximately 3 hours of play, something that was undoubtedly one of its weak points. Consequently, the purchase of power adapters for the car and for the home was simply a must.
Another weak point of the screen was that of having a different resolution than the different modes of the original console, so that sometimes some texts could be difficult to read. This point is aggravated in JRPGs, to which we must add the reduced size of the screen, for games that were originally designed and programmed to be seen on a large screen… Problems of sharing the catalog with a home console .
The layout of the buttons is the same as the Turbo Grafx, so in addition to the two buttons we find the possibility of automatic firing, a fact that shows how important alien games were in the PC Engine system catalog.
As you can imagine, one of the clear shortcomings of the PC Engine GT / Turbo Express was the inability to use the peripherals of the original consoles, so no CD ROM drive or dock can be attached to save games. Otherwise, in our hands we will have a real television with its corresponding input, with the popular TurboVision peripheral, thanks to which we will be able to tune in to the different television channels (if we go back to the 90's).
In the Turbo Express / PC Engine GT the possibilities of the Turbo Link (communication cable) were also explored: For 1,800 yen we could connect 2 portable consoles from NEC. Being a catalog of games shared with the PC Engine system, only 6 games released after 1990 enabled multiplayer play with "Cable Link" for cooperative multiplayer, this possibility quickly falling into oblivion.
Although in the Japanese market the launch of the PC Engine GT made some sense, since the PC Engine enjoyed great popularity, an excellent catalog and a large adult audience with stable incomes possibly interested in such a product, outside of Japan things were very different: SEGA and its Mega Drive were dominating the 16-bit desktop in Europe while NEC and its TurboGrafx only managed to position themselves moderately well (far behind the NES/Famicom) in the United States.
If we add the luxury price to this context, the Turbo Express only had a certain place in the North American market at a starting price of $299.99, crazy when compared to the $89.95 of the Game Boy. Some time later, the Turbo Express lowered its price until it reached $199.99 in 1992, but unfortunately for NEC, the Nintendo Game Boy had already taken over the entire portable market.
Although NEC's intention was from the first moment to compete with the Game Boy, the Turbo Express / PC Engine GT really played in another league, in the same way that the Neo Geo did in the same years. Who could buy a Turbo Express, had no problem also buying a Game Boy. We can say that the Turbo Express covered a segment of the portable market that until then had no offer: that of luxury portable consoles.
With worldwide sales of approximately 1.5 million units, NEC stopped supporting this notebook in a very short time, later transforming the concept from portable to portable with its home consoles, thanks to peripherals such as batteries, car power adapters and screens. Portable LCDs or the very same PC Engine LT.
Comparative TurboExpress / PCE GT with Game Boy
With the passing of the years, despite having more information each time, it is more difficult to understand like the Game Boy from Nintendo, and portable consoles with a potential like the Turbo Express have been able to impress all over the world. Si bien es verdad que las prestaciones de una y otra consola era muy desiguales, veamos mediate una comparativa dónde la Game Boy sacaba advantage:
GAME BOY
TURBO EXPRESS /
PC ENGINE GT
Size
90 mm x 148 mm x 32 mm
108 mm x 185 mm x 46,8 mm
Weight
220 grams (without batteries)
410 grams (without batteries)
Starting price
12.500 yen
44.800 yen
Screen Definition
160×144
336 x 221
Screen size
2,6 inches
2,6 inches
Backlit display
No
Yes
Color palette
4
512
Screen colors
4
481
Max speed CPUs
4.19 MHz
7,16 MHz
Graphics quality
8 bits
16 bits
Batteries
4 batteries AA
6 batteries AA
Battery durability
15 hours approx.
3 hours
Bearing in mind that the target audience for laptops in those years was mainly children and young people, it is clear that the Game Boy offered a number of advantages in terms of price and battery consumption (previously very expensive) and even weight and size. which could hardly be ignored by the parents, who were the ones who made the financial outlay.
Even being superior in all technical aspects, the perfect balance of the Game Boy and the good commercial approach to the bulk of the gamer public, clearly surpassed the benefits of the Turbo Express, being relegated to being an exceptional console for a privileged few.
The PC Engine family and the NEC philosophy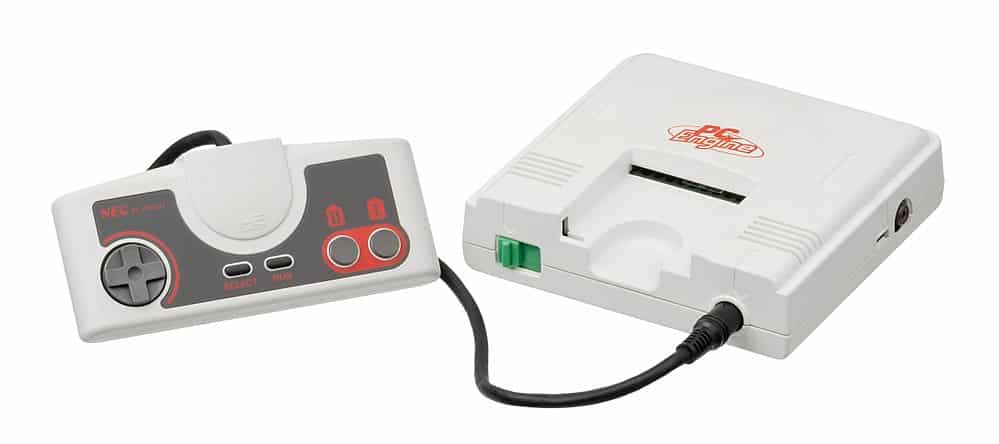 As we have previously pointed out in Infoconsolas, in the article dedicated to the original PC Engine console/system, we develop the background, history and models of a unique system in the entire History of Video Games. Even so, to understand the context of the PC Engine GT / TurboGrafx, it is convenient to at least review the PC Engine concept and philosophy:
Far from the usual philosophy and business model of most video game hardware companies, which release different consoles superior to their predecessors over the years, NEC created a universe around its original system launched in 1987, the which served as the basis for all the consoles that would come later:
PC Engine / Modelo PI-TG001
SHARP X1 Twin / Módelo CZ-830C-BK
NEC modelo PC-KD863G
TurboGrafx 16
PC-Engine Shuttle / Modelo PI-TG2
PC Engine Core Grafx / Modelo PI-TG3
PC Engine Super Grafx / Modelo PI-TG4
PC Engine GT / Turbo Express / Modelo PI-TG6
PC Engine Core Grafx II / Modelo PI-TG7
PC Engine Duo / Turbo Duo / Modelo PI-TG8
PC Engine LT / Modelo PI-TG9
PC Engine Duo R / PI-TG10
Pioneer LaserActive / Módelo CLD-A100
NEC LaserActive / Modelo PCE-LD1
PC Engine Duo RX / Módelo PCE-DUORX
15 models, 15 different models with improvements, built-in peripherals and memories, cheap versions, new superior consoles 100% compatible with the original, use of new and exclusive formats such as Laser Disc… NEC's philosophy was not to leave no one behind but always moving forward, if you had bought your first console in 1987, years later in 1993 you could continue playing the latest titles of the latest models thanks to the use of peripherals and extensions.
It is within this universe and different philosophy and business model, where the PC Engine GT and Turbo Grafx are framed. Whatever your user profile, there was a PC Engine for you.
It may seem confusing or destined to fail, but the success of the system in Japan, both in terms of sales and lifetime (official launches), showed that it was never wrong. After all, it is much cheaper to research and develop an improvement for an existing system than not to develop a new console from scratch. If a model wasn't selling properly, all you had to do was stop manufacturing it… We're talking about NEC, a manufacturer of hardware and consoles in Japan itself in those years, with the advantages that this entails over companies whose products are manufactured by third parties.
Given this perspective, before this company philosophy, it is no longer so crazy to see in all the PC Engine-Adventures that NEC got into in the 80's and 90's, the Turbo Express / PC Engine GT being one of the most wonderful for all retro console collectors today.
The great dilemma: Turbo Express or PC Engine GT, which to choose?
For collectors of retro consoles, this is undoubtedly the big question when buying NEC's handheld console: Which one to choose? Which one to buy? The Japanese PC Engine GT or the Turbo Express?
Power adapters and voltages aside, the main difference lies in its video game catalog, which corresponds to its domestic versions: Turbo Grafx 16 and PC Engine. Consequently, if we choose the Japanese version we will have endless incredible games at our disposal (since the system was successful in Japan), but with the impregnable language barrier depending on the genre.
On the other hand, if we choose the American version, we will have a much smaller catalog of games (and of poorer quality), but with the peace of mind that they are all perfectly playable, being a magnificent option for those who do not plan to learn Japanese in the coming years. .
Are there adapters to play Hucards from another region? Yes, for all those who want to get off the straight path of the "official", they exist. Likewise, with the price of the machine and the existing demand, it is most likely that your choice will be minimal, prioritizing issues such as the state of conservation and the price (mainly), over other aspects such as the region.
The price of the original Turbo Express / PC Engine GT
At Infoconsolas we always like to contextualize when we talk about the prices of retro consoles, it is not easy to get used to the idea of ​​figures in foreign currency from more than 20 years ago, so here we leave you with the starting prices of the different portable consoles more popular, which were released from 1989 to 1999.
| | | | |
| --- | --- | --- | --- |
| CONSOLE | LAUNCH | LAUNCH PRICE | COMPANY |
| Game Boy | 1989 | 12.500 yenes | Nintendo |
| Lynx | 1989 | 29.800 yenes | Atari |
| Turbo Express / PC Engine GT | 1990 | 44.800 yenes | NEC |
| Game Gear | 1990 | 19.800 yenes | Sega |
| Game Boy Pocket | 1996 | 6.800 yenes | Nintendo |
| Game Boy Light | 1998 | 6.800 yenes | Nintendo |
| Game Boy Color | 1998 | 8.900 yenes | Nintendo |
| Neo Geo Pocket | 1998 | 7.800 yenes | SNK |
| WonderSwan | 1999 | 4.800 yenes | Bandai |
As you can see, only 1 year after the launch of the Atari Lynx and shortly before the Game Gear, NEC launched the most expensive portable console of the 80's and 90's, which is no small thing. Costing more than twice as much as Sega's Game Gear, it could do little against the competition… As we have already mentioned, the Turbo Express was a luxury console.
To make it more difficult for the PC Engine GT, when the public compared prices with desktop consoles (PC Engine), traditionally always more expensive than portable machines, the following prices were found:
| | | |
| --- | --- | --- |
| PC Engine | 1987 | 24.800 yenes |
| PC Engine Shuttle | 1989 | 18.800 yenes |
| PC Engine Core Grafx I | 1989 | 24.800 yenes |
| PC Engine Super Grafx | 1989 | 39.800 yenes |
| PC Engine GT | 1990 | 44.800 yenes |
| PC Engine Core Grafx II | 1991 | 19,800 yenes |
| PC Engine Duo | 1991 | 59.800 yenes |
| PC Engine LT | 1991 | 99.800 yenes |
| PC Engine Duo R | 1993 | 39,800 yenes |
This to cite only NEC desktop consoles without taking into account the competition. Why would someone buy NEC's laptop, when you could buy a SuperGrafx for 5,000 yen less? Or a PC-Engine Shuttle for half the price… It really was very difficult to justify the purchase of the PC Engine GT / Turbo Grafx by the bulk of the population.
Collecting the NEC Turbo Express / PC Engine GT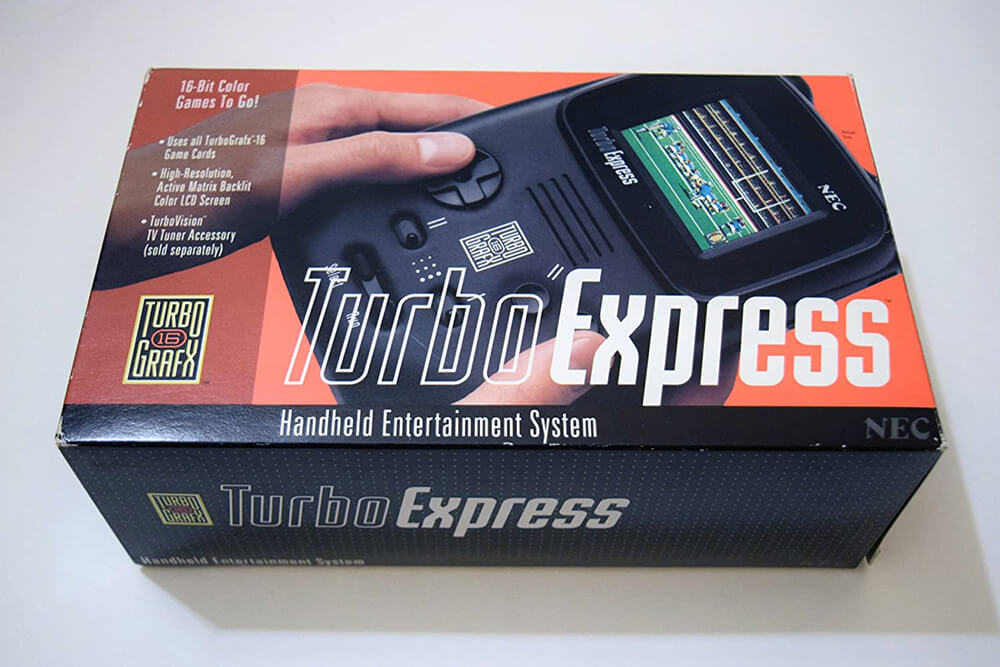 The Turbo Express / PC Engine GT has become a museum piece over the years, the jewel in the crown of retro console and video game collectors. And it really has everything to be one of the most coveted retro consoles:
It belongs to a great system and brand.
Large catalog of games.
It is from the golden age of 16 bits, those of us who enjoy this generation have an advanced age, purchasing power and a lot of nostalgia.
Pixel games!
Those of us who lived in the 80's and 90's could not have it at the time due to its high price.
The console is a great unknown to most of the public.
Very advanced for its time.
The question really should be: Why wouldn't someone want to collect the Turbo Express / PC Engine GT? There is no answer to that question.
It is clear that we all want to collect the NEC laptop, but this is a big game of collecting: It is very rare to see a Turbo Express in good condition and at a good (reasonable) price, very rarely… Consequently, our advice is that, with a lot of patience, you carry out periodic searches on eBay to find out the average market price in the different states of the console (new, with or without box, modified…).
Once we are clear about the current market price, we will know how much we must pay to consider the expense as "at a good price", always bearing in mind that it is one of the most expensive purchases that any collector of retro consoles can make. As if the exaggerated current price was not enough of an impediment, keep in mind that the Turbo Express / PC Engine GT has serious problems with the 18 electrolytic capacitors, which over the years rot and begin to release a viscous liquid that can corrode the base plate, so be very careful when fixing your prey, since if it is not fixed by today's date, the console may only be used for parts.
As we always say and in this case more than ever, enjoy the search, enjoy the wait, enjoy the hunt… It is an essential part of collecting retro consoles, never forget it.
Buying a retro Turbo Express / PC Engine GT console
As collectors and nostalgics have been joined by speculators for quite a few years now, the price of the Turbo Express / PC Engine GT is literally through the roof. If you are interested in buying a Turbo Expres / PC Engine GT, be clear that the outlay is going to be large, in any of its forms and states.
As always at Infoconsolas, we recommend the same tool that we ourselves have used since we started the collection of consoles and video games at the beginning of 2002, that is, eBay. And in this case more than ever, since the units available worldwide of this laptop can be counted on the fingers of one hand, so we can forget about markets, flea markets, second-hand stores and miracles that only happen on YouTube. (I myself toured different cities in Japan for a month and didn't see a single unit).
In the following link you will see a list of the Turbo Express / PC Engine GT currently available on eBay, with their respective updated prices. Take a moment to see the prices and continue.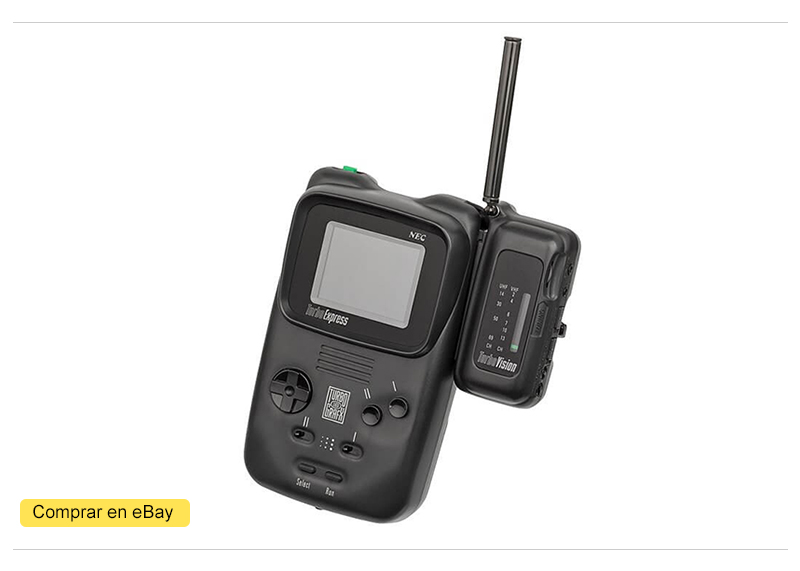 How about your reality check? 400, 600, 800, 999 US dollars… Pain for our gamer eyes, suffering for our retro portfolio, nightmare for our collector dreams. It is what it is, forget about going to Japan and finding a bargain for 150 yen in a little retro game store, that does not exist anymore, we already tried it, twice to be exact (2017 and 2019).
The Turbo Express / PC Engine GT is, more than ever, a luxury console and if you want it in your collection, you will have to be patient and pay a lot of money, regardless of its condition, repairs or modifications. oh! And if you see it for 250 euros or similar, don't get too excited, that price is that of the repair and installation services of modification kits such as IPS screens. That said, good luck and lots of encouragement.
STOP COLLECTOR! If you've seen the console listing on eBay, I want to say THANK YOU. Since 2004, the objective of Infoconsolas is to contribute to preserving the history of consoles and video games through our own collection of systems and the hours of work invested in this very website.

Being an eBay partner listing, if you buy a game or console, you will be helping Infoconsolas in the preservation of video game culture, so thank you very much again!
TOP: Best Turbo Express / PC Engine GT console games
Since we don't have the possibility to play games in CD format, to show you the TOP of the best games for the Turbo Express / PC Engine GT portable console, we leave you with one of our favorites regarding the PC Engine system: Bits Era.
In the following video you can see the selection of the 64 best PC Engine games in HuCard format, thus being playable with the NEC Turbo Express laptop. As you can see, they are authentic great games far above what the rival portable consoles of the time could offer us… Enjoy it!
Turbo Engine / PC Engine GT FAQ
The main doubts and questions about the Turbo Express / PC Engine GT below in this FAQ:
Is the PC Engine GT compatible with PC Engine peripherals?
No, it is a portable console so it remains as a basic system and has its own peripherals.
Is the Turbo Express / PC Engine GT compatible with your home consoles?
Yes, they are compatible with their respective consoles, ie Turbo Express with the TurboGrafx and PC Engine GT with the PC Engine.
Is Turbo Express or Pc Engine GT region free?
No.
How many video games were released for the PC Engine GT / Turbo Express?
There are a total of 277 video games in Hu Card format for the PC Engine GT.
Does the Turbo Express or PC Engine GT have the same features as the original PC Engine?
Yes.
How much did a Turbo Express cost at the time of its release?
$299.99.
How much did a PC Engine GT cost at the time of its release?
44.800 yen.
Does the PC Engine GT or Turbo Express have a backlit screen?
Yes, high quality and full color.
What does the GT of the PC Engine GT stand for?
Game & TV, although there are also those who prefer Game Tank (name of the project).
Can Super Gafx games be played on the PC Engine GT?
No.
Are there different colors of the Turbo Express?
No, this is not the Game Boy.
Are CD ROM2 and SUPER CD ROM2 compatible with the PC Engine LT?
No.
When was the PC Engine GT released?
On December 1, 1990.
What was the last PCE GT game?
The last video game in Hu Card format was "21エモン めざせホテル王", released on December 16, 1994 in Japan.
Can PC Engine GT s be played in the car?
Yes, with the PI-AD12 car adapter.
Can you watch TV on the Turbo Express / PC Engine GT?
Yes, the console has a video input and the PI-AD11 video tuner peripheral.
Technical characteristics of the Turbo Express / PC Engine GT video game console
Below we have the technical specifications of the PC Engine GT (PI-TG6) / Turbo Express:
Dimensions:
Length 185mm x Width 108mm x Thickness 46.8mm
Weight:
Console alone approx 410g (not including 6 AA batteries)
Screen:
2.6-inch active matrix color LCD with backlight 336 x 221 = 74,256 pixels (RGB counted separately)
Audio output:
Speaker: Round dynamic speaker (28mm diameter)
Headphone input: 3.5mm diameter stereo mini jack
Power supply used:
AA battery × 6 (DC9V)
Energy consumption:
4.6W
Format:
HuCard
Technical characteristics obtained from wikipedia.
External sources and links
Infoconsolas on a website from 2004, which we are updating little by little to offer you the best information and help preserve the culture of video games.

Sometimes, once the analyzes of retro consoles have been updated, it is interesting for us to leave the original articles at your disposal, thus offering the vision and real perception that we had in those years, of a hobby such as collecting retro consoles, the which has done nothing but grow and massify to date. We hope you enjoy it!
¡Bonus!: Artículo original de la Turbo Express año 2005
Well, here we have the Roll Roice of portable video game consoles, the best portable of the 90's (in relation to year of release/quality), The Turbo Express in the USA or PC Engine GT in Japan, one of those consoles that we only saw advertise in some magazine of the time, in the days of the Game Boy and that we freaked out with details such as being able to watch TV in a few years when there was only one television at home. The PC Engine GT is a retro collector's gem, an insatiable battery eater, a work of art… The missing piece in my collection!
LAUNCH DATE: 1990 Japan, 1990 North America.
4TH GENERATION OF CONSOLES
*If you are new to the PC Engine I strongly recommend that you read the original article first, with the full history of the PC Engina family. Soon, I will update this article with new content.
In the time that NEC was in the world of consoles, the truth is that it did not stop surprising us. If you look at its catalog of consoles it would have to be in one of the highest positions, a pity that for financial reasons it left this world because the truth was a brand that is characterized by its quality and support for its consoles (something that many brands do not you can tell… like Sega CD-Saturn-Dreamcast incompatibilities).
Having said the praises, fair and necessary, we are going to talk about what was possibly the best console of the early 90's: the Turbo Express or Turbo GT.
When we were all hooked on our Game Boy with 4 shades of gray and had let go of consoles like the Lynx (and little was left for the Game Gear), NEC enters the world of portables through the front door, true to its strategy It manages to reduce the size of the fabulous PC Engine (Turbo Grafx) to that of a slightly thicker Game Boy and incorporate an LCD screen. The result? A laptop that as soon as it hit the market had hundreds of games, since it was compatible with all the games (cards) of the PC Engine (known in our lands as the Turbo Grafx).
The Turbo Express or Turbo GT was sold in Asia, America and Europe, technically it was much superior than the rest of the laptops on the market (followed very closely by the Lynx) since the graphics processor was 16 bits, the Turbo Express is perfectly comparable to today's consoles such as the Game Boy Advance, think that we are talking about the early 90's, in the midst of the reign of the Game Boy, the Turbo Express had the graphics of a 16 Bit!!
The truth is that we fully understand the failure of this console, the price and poor marketing. Such advanced technology had a very high price, also people did not see that the Turbo GT was the Neo Geo of portables, its games simply equal or even technically surpass many GBA games, we are talking about a console that could perfectly be in stores today
The Turbo Express / PC Engine GT cannot be missing from your collection (just like the PC Engine LT), a great console that went unnoticed in its time but that is currently, together with the Vectrex, one of the most valued and sought after. You can look on Ebay if you are interested in buying a Turbo Express.