Bandai's WonderSwan portable console is a jewel of retro console collecting, the video game console that the inventor of Nintendo's Game Boy himself, the great Gunpei Yokoi, created to unseat his creation 10 years later. The WonderSwan is therefore the story of a father willing to end his greatest work with another great console, a bet by Bandai in which he dared to deal with the almighty Nintendo.
And it is that the WonderSwan really had everything to unseat its older sister, Gunpei Yokoi's studio created a Game Boy 2.0 adapted to 1999 with the same principles as his great work: The balance between features and price, resulting in a console portable that, for a reduced cost, surpassed in practically everything the original Game Boy of Nintendo and its Pocket version.
COMPANY:
Bandai
CONSOLE GENERATION:
5TH GENERATION OF CONSOLES
RELEASE DATE:
March 4, 1999
GAMES CATALOGUE:
103 commercial video games + 17 in color compatible (WSC)
SOLD UNITS:
1.55 million units approx.
LAUNCH PRICE:
4.800 yen
PROCESSOR:

16-bit NEC V30 MZ

at 3.072MHz

FORMAT:
Cartridge
BUY IT ON EBAY:
https://ebay.us/k5vDEg
WonderSwan, Bandai's portable console
The WonderSwan is one of the best portables ever made, a 100% Japanese console currently in vogue for a few years, leaving its country of origin straight onto the shelves of collectors around the world. Bandai's console is a machine with a perfect balance, which gradually improved its few initial deficiencies through its two later versions, the WonderSwan Color and the SwanCrystal, evolving to reach the category of masterpiece in relation to quality/price/time. And it is not surprising, since behind the console and Bandai was Koto Laboratory, the company founded by Gunpei Yokoi himself. But let's go in parts…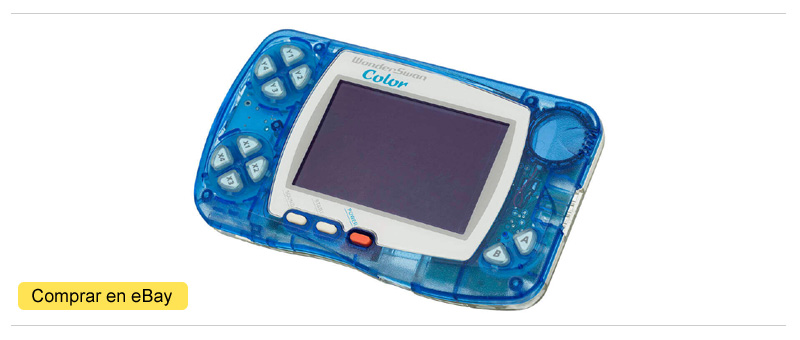 Video game situation in 1999
The video game scene at the end of the 90's was very different from the one we all know today, being a few years of great changes: If previously Nintendo had reigned for a long period in the world of video games, the overwhelming success of Sony and his PS1, together with the commercial failure of the Virtual Boy and, to a lesser extent, the Nintendo 64, had placed the plumber's company in a rather delicate situation for the future.
Videogames, thanks to the cheaper PCs and recent consoles such as the PS1, were expanding their market base, ceasing to be considered "child's play", since users who were reaching the adult stage of our lives continued to playing thanks to the great offer of video games for the adult public on the new systems, something practically non-existent in the 80's and early 90's. Faced with this change in the potential audience for video games, the portable console market remained an impregnable stronghold for Nintendo, in which, thanks to the Game Boy and its versions, it reigned throughout the 1990s, imposing and feeding back the vision and concept that portable consoles were for the youngest.
In a very summarized way, what was exposed in the previous paragraphs was the situation at the end of the 90's. Focusing on the aspect that interests us the most for this article, portable consoles had become consoles for children, cheap starter consoles, before being able to buy a PS1 or future 128-bit consoles in which the blood and violence were much more real thanks to its greater features, something that did not happen in Nintendo's Game Boy due to its release policy as much as due to its technical limitations. In practice, if you were 16 years old or older at the end of the 90's, you were playing the play or any other desktop system before the Game Boy. Nintendo's portable console in its original version and Pocket had technically lagged far behind its desktop competitors and the comparisons were so odious that they made the Game Boy sit on the shelf collecting dust or only used for the toilet or getaways of weekends for those of us who were of smoking age.
This apparent glorious situation for Nintendo in the portable market, in which it had a worldwide monopoly, had left a deep void for a large part of the public: We adults did not have a portable console for ourselves, adapted to our tastes. Many of us had been orphaned in the portable field even though on many occasions we were not aware and this would be the battlefield for which Bandai would attack the Big N, starting again a battle in the portable landscape, a battle that many others companies had previously lost… But Bandai had an ace up its sleeve and that ace was called Koto Laboratory.
The creators of the WonderSwan: Bandai, Koto Laboratory and Gunpei Yokoi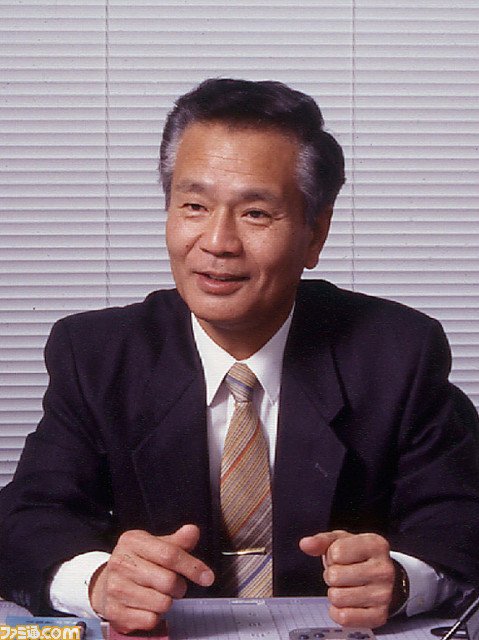 Bandai is a Japanese giant founded by Naoharu Yamashina in 1950 that began manufacturing plastic toys and figures, becoming a popular company by obtaining licenses for different animes in the 1960s. Subsequently, it entered the electronics market by licensing consoles such as Emerson Radio's Arcadia 2001, Mattel's Intellivision or MB's Vectrex, as well as its own TV Jack and Super Vision 8000 consoles, years later becoming one of the first third-party consoles. Nintendo Famicom parties, launching his Bandai RX-78 computer and venturing into the 90's with the Apple Bandai Pippin and the Playdia. In the portable field, he had launched a large number of little machines, the Bandai LCD.
As you have been able to verify, Bandai was a company with plenty of experience in the mid-90s, a giant that had spent decades trying to appropriate a piece of the video game pie in Japan and that would have a very special ally for its new attack. Gunpei Yokoi and his company Koto Laboratory.
Gunpei Yokoi is one of the most important figures in video game history. Born in Kyoto in 1941, he began working at Nintendo in 1965, where he worked his way up the toy line, displaying great creativity. Years later, Nintendo decided to enter the video game market and Gunpei became the head of the R&D1 development division, where Miyamoto himself would work. From R&D1 would come the 5 Color TV Games consoles (Color TV-Game 6), the Game & Watch and the Game Boy, the latter two being considered his inventions in addition to the Zapper and R.O.B of the Famicom. And now let's take a break to be fully aware of what is mentioned in this paragraph: When we talk about Gunpei Yokoi, we are talking about the inventor of the Game & Watch, the Pad control and the Game Boy. Awesome.
Gunpei Yokoi was also a producer of games like Metroid, Metroid II: Return of Samus, Super Metroid, Kid Icarus, Super Mario Land, Fire Emblem: Ankoku Ryū to Hikari no Tsurugi, Fire Emblem Gaiden, Super Mario Land 2: 6 Golden Coins, Dr. Mario, Yoshi's Cookie and Tetris Attack among others. A true video game master who enjoyed great prestige and reputation within Nintendo, until the Virtual Boy arrived. Nintendo's first fifth-generation 32-bit console, the Virtual Boy led by Gunpei Yokoi himself, was an absolute commercial failure in both Japan and the United States. A console that sought to bring virtual reality to our homes in the mid-90s at an affordable price, became the reason for Gunpei Yokoi to resign on August 15, 1996, a few days after the Game Boy Pocket was launched. for sale.
Gunpei Yokoi resigned and founded his own company, Koto Laboratory, being quickly rescued by Bandai who required his services to launch their new console in Japan, a signing like Gunpei's could not be missed and for the competition, that is, Bandai, count with Gunpei's services it was the best guarantee to deal with Nintendo in its own field: the market for portable consoles. Nobody knew him like he did.
Koto Laboratory and Bandai's partnership was fruitful as they jointly developed the WonderSwan handheld console, but unfortunately Gunpei was unable to see the release of his work as he passed away on October 4, 1997 in a traffic accident. The world of video games thus lost one of its great exponents and the WonderSwan became, due to this misfortune, his latest work in the video game console market. The creator of the Game & Watch, the GameBoy and his Mario Land, left us the last jewel of his postmortem legacy, being released to the public on March 4, 1999 in Japan.
WonderSwan, the console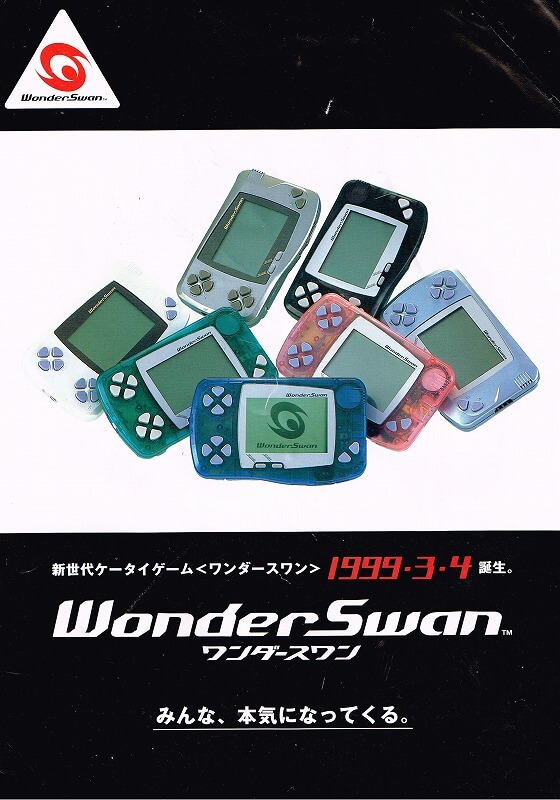 The WonderSwan was initially the perfect laptop to deal with Nintendo's Game Boy, just as it had done many years before with the Game Boy, for the development of the WonderSwan they applied the philosophy of "Kareta Gijutsu no Suihei Shikō", which we could translate as "lateral thinking with withered technology". In practice, this philosophy means applying creativity to an already mature technology in order to offer commercially attractive and economical products, something highly intelligent to achieve balanced consoles… How many technologically cutting-edge systems have failed throughout history due to their high price? That would not happen to the WonderSwan.
Bandai and Gunpei were perfect connoisseurs of the Japanese console and video game market, they knew that it was completely taken over by high-powered desktop machines (the highest priority for gamers) and equally taken over by the Game Boy and its variants in the field of portable ones. . Consequently, to penetrate the market they had to be clearly superior to Nintendo's portable but still cheap enough to be interesting for users who already had a desktop or portable console… A true marketing odyssey .
Faced with this terrible scenario, Bandai brought out the best portable console that could be launched at that time:
Starting price of 4,800 yen. There were GB cartridges that cost more.
Some pocket dimensions 74.3 x 121 x 24.3 (mm).
Weight of 93 grams (without battery).
A single AA battery with a duration of 30 hours. A luxury.
16-bit CPU.
2.49 inch LCD screen
Definition 224 x 144 pixels
Colors, 8 shades of gray on screen from a palette of 16.
Cheaper, smaller, more powerful, lighter, more definition, longer duration, more colors, more, more, more, more! The WonderSwan was a better console than the original Game Boy and Game Boy Pocket in almost every way. As if this were not enough, Bandai was a guarantee of having a catalog of games from the best manga and anime, in addition to the numerous companies that joined the bandwagon. Bandai offered a better portable console at a ridiculous price, suitable for any youngster regardless of the consoles they had, everyone could afford a second console at a price like the WonderSwan. Gunpei and Koto Laboratory had been faithful to their philosophy of balance and with an already mature and consequently very economical technology, they had managed to create the perfect laptop in 1999 in terms of quality/price.
A creative detail to take into account is the layout of its controls, which also allowed the console to be played vertically, this being a perfect position to enjoy the Shoot 'Em Up (martians of a lifetime) so popular in those years. This idea was not original to Koto Laboratory, it had already been seen many years before on the Atari Lynx, but they adapted it perfectly, offering a great value plus for fans of the genre. Bandai also sought to segment its public and offer "its ideal console" by launching its machine with 19 different colors/creatives throughout its life: Frozen mint, melon sorbet, Digimon Orange, yellow Chocobo… These are some of the colors and versions for which collectors of retro consoles would pay with their soul depending on which edition. And finally in the creative aspects, the console had an internal memory in which you could save your user profile: Name, birthday, gender and blood type, something that other laptops had already started.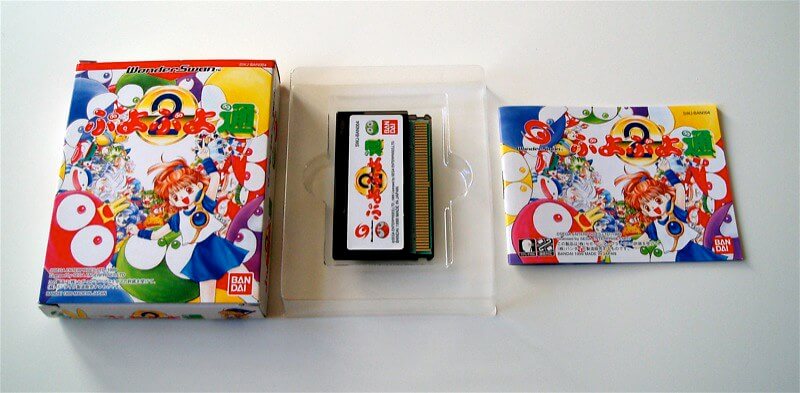 And its catalog of games? Could it stand up to the Nintendo handheld? Yes for quality, with the support of Bandai and companies like Banpresto, Sunsoft or Square among many others, the original WonderSwan enjoyed more than 100 games to which must be added those of the WonderSwan Color compatible with the first console (17). Bandai threw the house out the window with its first model, bringing the entire Japanese cultural universe to its console: Gundam, Ultraman, Digimon, Naruto, Dragon Ball, One Piece, Detective Conan, Rockman… To which must be added jewels like The Train Go!, Puzzle Bobble, Final Fantasy saga, Guilty gear to name a few. The WonderSwan had a good catalog of quality games to penetrate the Japanese market, but it was not enough to unseat the Game Boy…
Apart from the difficulty of entering a secondary market such as that of laptops, already taken over by Nintendo, as well as the adverse perception of the adult or adolescent user of "I already have a laptop", the strategy of offering a very cheap price for the hardware and Maximizing battery life was taken to such an extent that the quality of the LCD screen was too diminished for what the public expected in 1999. The choice of FSTN monochrome LCD was ideal for our console to withstand 30 hours of gaming with a single AA battery (pure magic), but the quality of the screen was not good, which coupled with the fact that it was not backlit, made it difficult to enjoy a 16-bit portable console as we all expected.
As if this were not enough, Nintendo had launched in Japan the backlit Game Boy Light (a rarity that really fulfilled its mission perfectly) and a new console that would be the direct rival of the WonderSwan: The Game Boy Color, a vitaminized GB Pocket that in the practice was a console far superior to the original Game Boy, but fully compatible. Nintendo chose to keep the "Game Boy" umbrella brand in this case, but it could just as well have been called the Game Boy². The GB Color improved the features of the original and what is more important, added a rainbow of 32,768 colors with 56 on the screen. Released on October 21, 1998 for 6,800 yen (2,000 yen more expensive), Nintendo anticipated Bandai by minimizing the impact of the WonderSwan's 16-bit power, literally taking the colors out of it. Nintendo managed with this movement to greatly reduce the purchase intentions of users in relation to the WonderSwan.
Bandai had made a mistake in squaring the circle of balance, in 1998 and 1999 the technology was already prepared to offer us a color laptop with good features and an affordable price. They were brave in their approach to maximums, but Nintendo once again demonstrated why it was the queen of portables, managing the launch and renewal times of its consoles like nobody else knew how to do. Fortunately, Bandai understood the market and released two new models of its original console.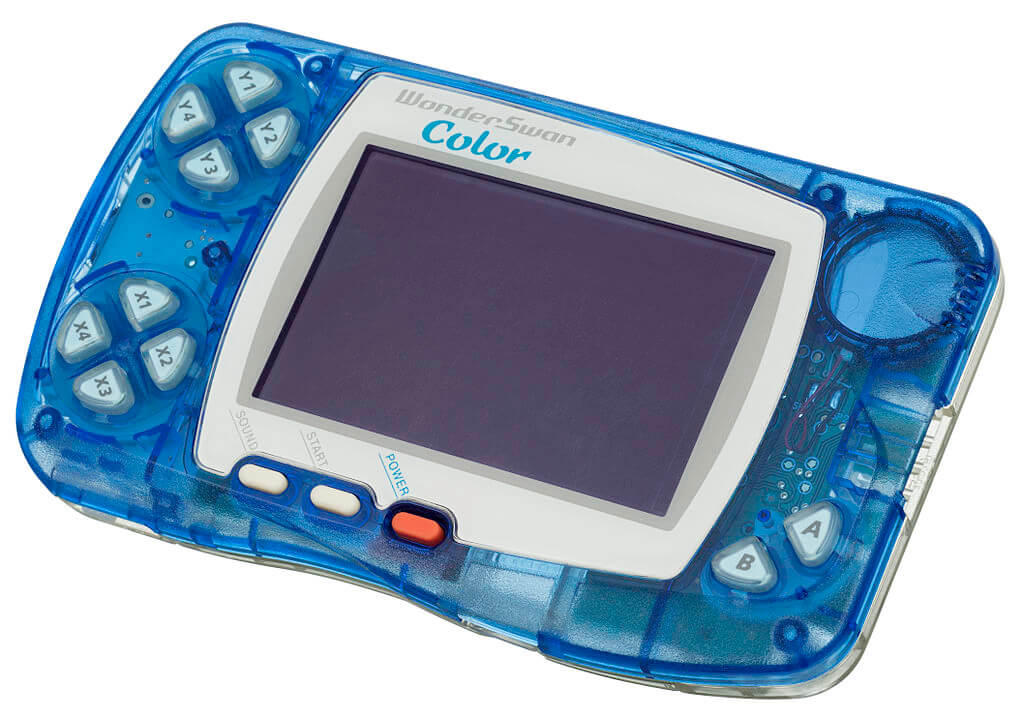 Launched on December 9, 2000 with the Christmas campaign in mind for 6,800 yen (same as the GB Color), Bandai offered us a superior version of its completely backwards compatible WonderSwan, where obviously its greatest differential factor and benefit was its color LCD screen, with which we enjoyed 241 colors on the screen from a palette of 4096 colors, sacrificing 10 hours of our battery, which went from 30 hours to 20 hours… A more than acceptable change.
Due to these changes, the console's features and specifications increased slightly as well as its size, which was slightly larger than the first WonderSwan. Thanks to the WonderSwan Color, the catalog and life of the Bandai laptop was extended, reaching almost 200 titles in the set of versions, a not insignificant figure. The WonderSwan Color had its own catalog of 86 video games, most of them exclusive, thus taking advantage of the best features of the new machine. If you had to buy a WonderSwan at Christmas 2000, it had to be a Wonder Swan Color, because of the price difference there was no doubt.
Theoretically, the WonderSwan Color could look over its shoulder at Nintendo's GBC, but if Bandai once again offered a large catalog of video games based on the most followed anime and manga of the moment, Nintendo had a whole cast of exclusivities to deal with it, canceling to a large extent the trump card of the video game catalogue. But unfortunately for Bandai, the big flaw of the WonderSwan Color, a practically perfect laptop, was again its screen. Yes, despite being in color Bandai had once again prioritized the final price of the console and the duration of the batteries, an extremely legitimate strategy, but whose result was a dark colored screen, without feedback, which caused that in addition to the logical difficulty to be able to play in good conditions depending completely on the environment, its graphics and all the power of the machine did not look as it should to clearly position itself above the GBC in the consumer's mind. A shame.
What years before was not a problem, as demonstrated by the Game Boy (screen quality), was seen in the late 90's and early 2000 as an extremely important factor. Given this scenario, what did Bandai do? Pulling out another console, much to the delight of all future retro video game and console collectors.
WonderSwan Models: SwanCrystal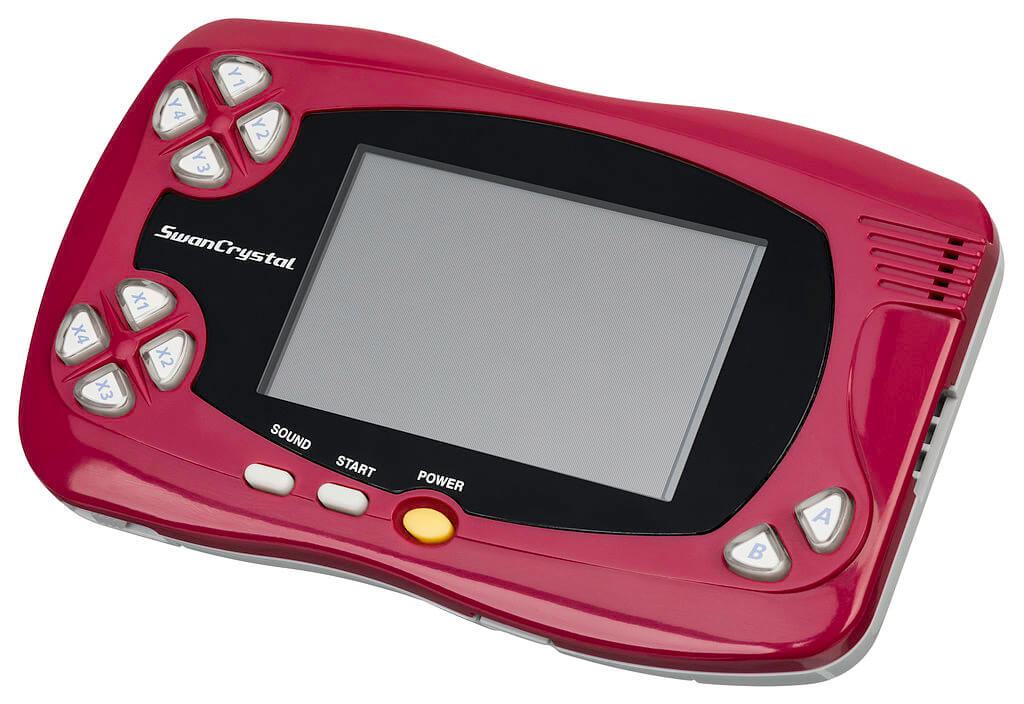 The SwanCrystal… The "Swan Crystal" is probably the most beautiful name ever given to a video game console or any other object on the face of this earth. Released on July 12, 2002 for 7,800 yen, the SwanCrystal was a new WonderSwan with a much brighter and higher quality full-color TFT LCD screen, eliminating afterimages from previous models (it was still non-backlit). The console was completely compatible with its sisters, having the only "but" due to the difference in screens (brighter than the WonderSwan Color), that there were colors that came to be seen differently on both systems, which is why in certain games they were weird certain graphics. Some games began to be adapted to this new console/screen (Final Fantasy III and Sacred Sword Legend 2), but they were never published. As an addition to its sisters, the console had 4 volume levels instead of the usual 3 in the series. Battery life with this new display? 15 hours on a single AA battery, not bad…
The SwanCrystal was finally the portable console that made the difference with Nintendo's GBC, Bandai had taken 3 years to offer what the Japanese market really demanded. He had legitimately prioritized price and batteries, just as Gunpei had done with his Yokoi more than a decade before, but these premises, this strategy, this philosophy that was still valid in the 2000s, had to be refined, refined, adapted… With the SwanCrystal they succeeded, but too late.
On March 21, 2001 Nintendo released its brand new 32-bit Game Boy Advance for 8,800 yen. That is, a year before the release of the SwanCrystal, Nintendo had done it again. The SwanCrystal was the last flight of the swan, a tribute to the system itself that was discontinued in 2003. The SwanCrystal was sold in 4 different colors: Blue Violet, Wine Red, Crystal Blue and Clear Black as well as different limited editions, currently being precious collectors pieces.
Was the WonderSwan a flop?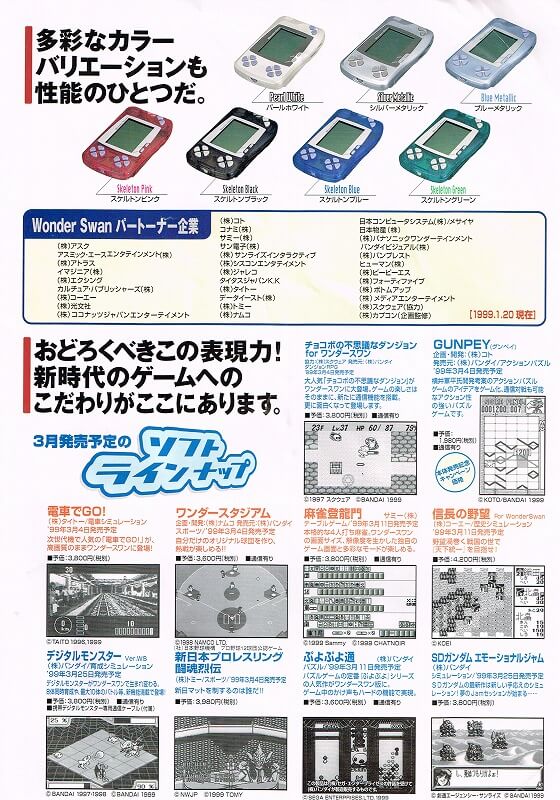 When one reviews the history of the WonderSwan and its consoles, it can give the impression that the console was an absolute failure and that nothing could be done against Nintendo and its Game Boys… Nothing could be further from the truth, Bandai's portable console sold in its 3 versions 4 million units, obtaining 8% of the Japanese market in a very short period of time, figures that many companies would like, being commercially viable due to Bandai's business model and the gigantic proportions of the market of Japanese video games. We must bear in mind that we are talking about a console that never left Japan, so they are very respectable figures, for example, the first and successful Game Boy sold 12 million units in its country of origin while the Game Gear SEGA sold 1.8 million units of its portable in Japan and the Neo Geo Pocket 500,000 units.
Consequently, the WonderSwan and its different versions were commercially viable systems until the arrival of the Game Boy Advance. The overwhelming success of the Game Boy family of consoles did not mean that other systems could not coexist in the Japanese market and obtain good numbers. . Bandai achieved with its portable consoles what many other companies had not achieved, putting the Big N in trouble in its greatest fiefdom, that of the portable ones. Launching a console like the WonderSwan and WonderSwan Color, showed the general public that in the year 2000, technology at a good price could offer much more than what Nintendo gave us, causing Nintendo to accelerate the launch of its 32-bit portable console. For the first time, Nintendo had real and serious competition in the handheld market.
It is true that the WonderSwan family may seem short to us, but in its 4 years of life it had a large catalog of approximately 200 commercial games, an endless number of versions with different aesthetics and we must remember that before the economic crisis that It started in 2008 and made the systems extend their life, 4 years of life was an acceptable commercial period for most systems and a dream for many others that failed. So no, the WonderSwan was not a commercial failure, it was a console with a relatively short but very intense lifespan, which due to its low cost and commensurate features, could not compete with the arrival of the 32-bit laptop from Nintendo.
WonderSwan Peripherals
When at Infoconsolas we say that the WonderSwan and its different models had an intense life, we are not referring only to games, here is a sample of the best peripherals for Bandai's retro console:
Wonder Wave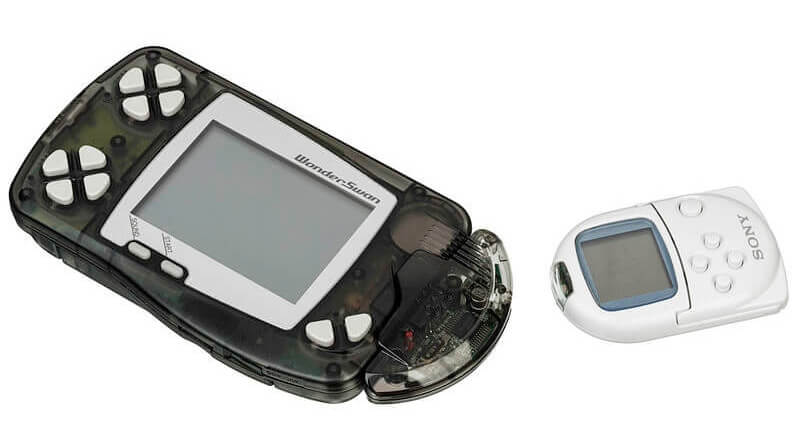 An adapter that was placed on the side of the console, which communicated by infrared with the PlayStation PocketStation, in an attempt to counter Nintendo by joining forces with Sony, which lacked a portable console in those years. A total of 8 games, mostly from the Gundam and Digimon sagas, allowed this game mode that crossed our desktop console and Bandai's laptop.
Wonder Borg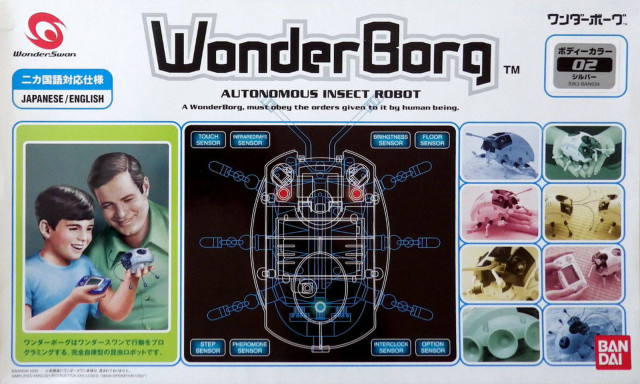 This is possibly one of the most amazing peripherals that any system in the history of consoles has had, an autonomous insect robot, which we could program from our console with the Robot Works cartridge and communicate with it via infrared. The WonderBorg is a very advanced product for its time, and this type of toy became popular many years later. The robot had the following components:
8 bit processor.
infrared port.
Two antennas with tactile sensors.
Two independent leds as eyes.
Light sensor.
Soil sensor, which detects the presence or not of it (holes).
Time sensor.
Step sensor.
Its consumption was approximately 2 hours with 3 AA batteries and to program it we had to place our console 20 centimeters from the robot. As I have already mentioned, one of the most curious peripherals which shares a certain reminiscence with the R.O.B. from the NES despite being more influenced by Sony's Aibo virtual pet. Its price was 12,000 yen and it was released on July 23, 2000.
Wonder Witch, Personal Software Development Kit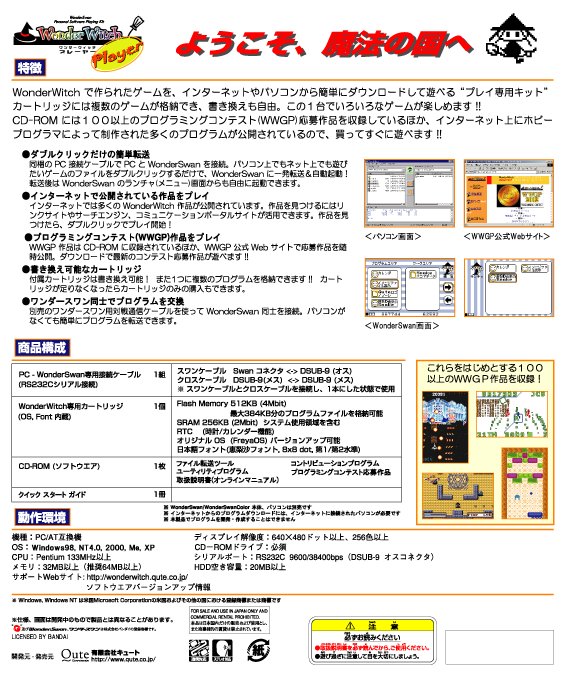 Do you want to program for the WonderSwan? With WonderWitch you can, a C programming environment with everything you need so that from your PC, you can bring a commercially dead retro console back to life. Released on July 18, 2000 in Japan, it was later updated for WonderSwan Color and Windows XP. The first option was the complete kit that was used to program on our PC, which cost 16,800 yen, the second was the game-only kit, which allowed us to download games developed by other programmers and play them on our console for 7,800 yen and in Third, there were the dedicated cartridges to save our games, which cost 3,980 yen.
Being a product intended for an already very limited audience (programmers) and costing more than twice as much as the console itself, few units of this development kit were sold for "all audiences". To promote it, Bandai and Qute held various programming championships, with more than 100 games being chosen in the first edition.
Mobile Wonder Gate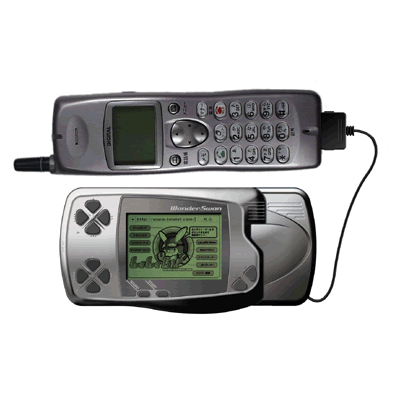 Bandai announced on June 23, 2000 a peripheral to connect its portable console to the mobile phone, thus obtaining Internet connection functions and transforming our laptop into a network terminal. The WonderGate included a cartridge with a browser with HTML support (let's remember that it was the year 2000), an email client that stored up to 50 addresses and 100 messages and the possibility of downloading 32 kb mini games in its memory. In the playable, some video games used it to download modifications or share record tables.
As you can imagine, this was a peripheral far ahead of its time.
WonderSwan Handy Sonar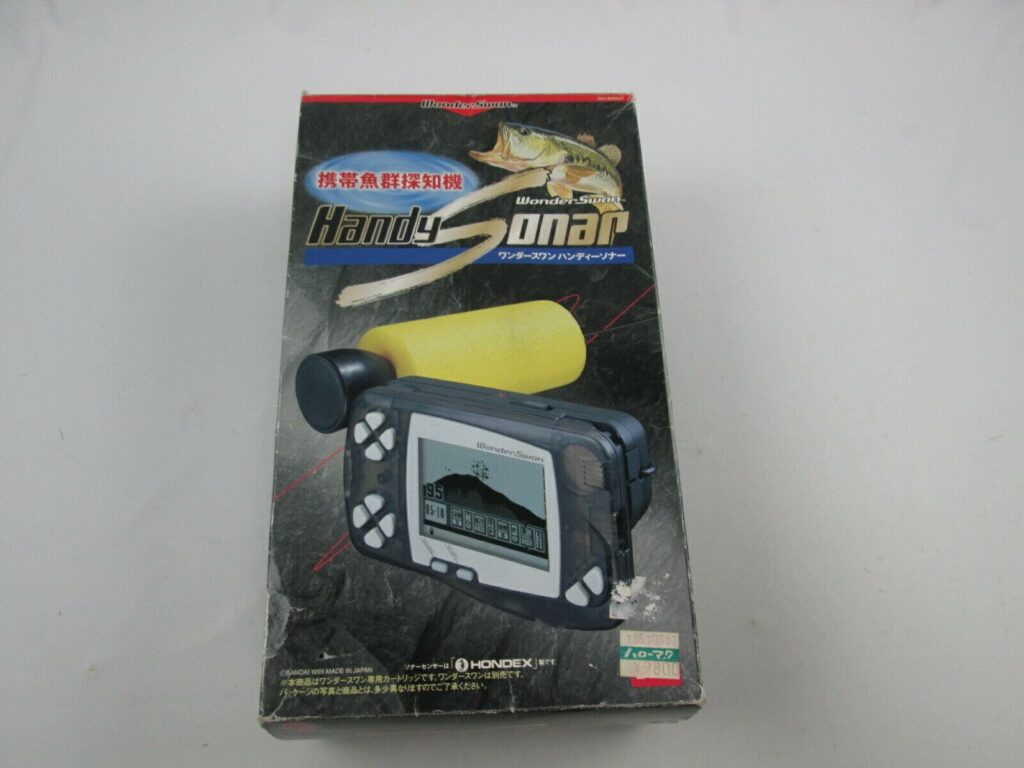 Yes… A sonar, what more do you want for your portable console? Being able to go on Sunday mornings with your little boat, boat or zodiac along the nearest lake or coast, take out your WonderSwan with its Handy Sonar, the handheld sonar that takes advantage of the console screen to lower its cost, and throw the rod at the desired depth waiting for that fish with which to take the photo and with which we will earn the respect of our family and friends…
At some point in 1999, someone thought that the WonderSwan was the perfect machine to add a sonar to and the truth is that it made some sense, the low price of the console offered the possibility of launching a portable sonar at a very interesting price, 14,600 yen at launch with console included. For all of us who are not sea lions, the peripheral borders on the bizarre.
WonderSwan Tanita Mama Mite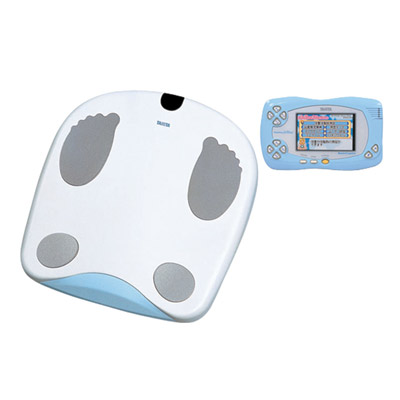 In October 2002, Tanita Corporation announced the launch of the Tanita Mama Mitte, a device to monitor the health of pregnant women and their babies, from pregnancy to 5 years of age, based on a theory from Hyogo Prefectural Kashiwabara Hospital that I am obviously not going to develop. , but which basically exposes the importance of controlling the weight of the mother and her baby as well as the relationship between them. Take peripheral.
As in many other cases, the choice of the SwanCrystal responded to the intention of the Tanita Corporation to reduce costs, since with the use of the console they did not have to develop a new device with a screen and controls. Bandai adapted its console to Tanita's needs, currently being one of the strangest versions to see, due to the few units that were sold. Focusing on the peripheral, in addition to all the information available, it communicated with the scale through the cartridge and included, in addition to information, mini-games and the possibility of inserting data related to the health of the mother and her baby.
WonderSwan GPS (not released)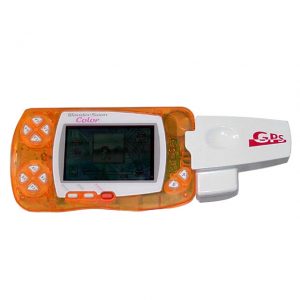 Orienting yourself in Tokyo is complicated gentlemen… That's why on March 30, 2001 Bandai announced a GPS for its console at the Tokyo Game Show. The initial idea was to offer a cheap GPS thanks to the screen and controls that the console itself would provide (something that in those years made a lot of sense as we have already said), obtaining the maps by downloading and inserting them with a memory card. The WonderSwan GPS was finished, ready for production and with an estimated price of about 15,000 yen, but unfortunately there is no record of its launch.
The curious thing about this peripheral is that it was very close to taking a giant step in the video game industry, since 3 video games were made based on GPS technology: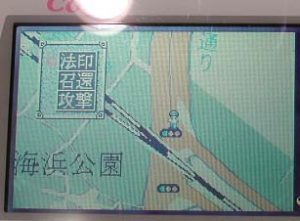 Magic Formation WARS: Many years before Pokemon Go! Namco planned to launch an RPG where our main task was to capture demons in the streets of our neighborhoods, towns and cities, being able to combine them later to make them more powerful. We are talking about 2001… impressive.
Super GPS Pacman: In this case, NAMCOM's game would use GPS to map the game/dungeon on our screens, based on our own environment and location. So far everything is correct, logical, innovative and apparently fun… What happens is that it was planned that the console with GPS would also connect to the phone through the aforementioned peripheral, the Wonder Gate, thus being able to send our data positioning to other consoles and play a multiplayer online/GPS game on the streets of Tokyo… Now with capital letters, AWESOME.
Let's Play Golf: Another fully immersive game, a golf game with mapping based on our environment and position, in which you had to walk the actual distance of a round of golf every time you shot the ball. To add realism, the cartridge would have an accelerometer and control sensor, to hit the ball with our console in a similar way to the Wii… In the year 2001 gentlemen… AWESOME.
The price of the WonderSwan
Until now in this WonderSwan article, we have mentioned the price of the console on numerous occasions, but at Infoconsolas we are very aware of how difficult it is to assimilate figures in a foreign currency at a specific moment more than 20 years ago. Consequently, to make it easier and so that you can compare and assess correctly, here is a comparison with the price of different laptops in their launch year.
| | | | |
| --- | --- | --- | --- |
| CONSOLE | LAUNCH | LAUNCH PRICE | COMPANY |
| Game Boy | 1989 | 12.500 yenes | Nintendo |
| Lynx | 1989 | 29.800 yenes | Atari |
| Game Gear | 1990 | 19.800 yenes | Sega |
| Game Boy Pocket | 1996 | 6.800 yenes | Nintendo |
| Game Boy Light | 1998 | 6.800 yenes | Nintendo |
| Game Boy Color | 1998 | 6.800 yenes | Nintendo |
| Neo Geo Pocket | 1998 | 7.800 yenes | SNK |
| WonderSwan | 1999 | 4.800 yenes | Bandai |
| Neo Geo Pocket Color | 1999 | 8.900 yenes | SNK |
| New Neo Geo Pocket Color | 1999 | 6.800 yenes | SNK |
| WonderSwan Color | 2000 | 6.800 yenes | Bandai |
| Game Boy Advance | 2001 | 8.800 yenes | Nintendo |
| SwanCrystal | 2002 | 7.800 yenes | Bandai |
Yes, the original WonderSwan was really cheap, whether you compare it to its contemporaries or the rest. It is true that Nintendo's portable and its different versions from the late 90's also had a very reasonable price, but if you already had a desktop console and only wanted a portable for the subway or playing at recess, the WonderSwan was the cheapest option. If we compare it with the SNK console, the difference becomes even more palpable, which is why Bandai's laptop was established as the best alternative to Nintendo (among other factors).
Collecting the Bandai WonderSwan
And we come to the big question, is the WonderSwan worth collecting? Yes, of course it is, it is a great portable console, a 100% Japanese product that allows us to feel and live as the hobby of videogames was enjoyed more than 20 years ago in the land of the rising sun. Really, collecting the WonderSwan is bringing a little piece of Japan, and learning about its culture and customs, a way to redeem ourselves for all those consoles that never left their borders due to the more than questionable commercial premise of "We Westerners weren't ready". . Fortunately for us, today we can easily acquire a console that was denied to us at the time.
But watch out! Let's not fool ourselves, we are dealing with a 99% localized console, made by and for the Japanese market and by this I am not referring to game mechanics or themes but to the language barrier. Don't get your hopes up, you won't be able to play an RPG if you don't know the language as well as many other games. Is this an insurmountable barrier? Not at all, today we have hundreds of websites that will advise us which games are playable for us and which ones are not, or we directly have access to see the games before buying them, as we will show you in the "Best WonderSwan games" section. ", but really, do not dare to buy Wonder video games without informing yourself beforehand, because it is most likely that they will end up collecting dust on the shelf without even having opened them, I know what I am talking about.
Returning to the system, one of the attractions of collecting the Bandai console, in addition to discovering a 100% Japanese product that they deprived us of, is the large number of versions and limited editions that exist for any of the three models. If your intention is to delve into the WonderSwan universe, the offer is such that you will have it for years if what you want is to acquire all the versions. Possibly, it is the most versioned console of all time… For those of us who are satisfied with having a representative sample of the console, the simple fact of acquiring the 3 main models is already quite an achievement today.
Buy a WonderSwan console
Fortunately, buying a WonderSwan retro console is easy and relatively cheap today (July 2023), so if your intention is to get to know and enjoy the system, as you can see in the eBay link, the prices are more than affordable compared to other systems. As usual, we are talking about cheap prices for those who wish to purchase the console without a box, since for the most meticulous collectors the investment will go up a lot depending on the condition of the box, instructions and plastics, as is the case with everything related to consoles and retro video games. I leave you a link to eBay with the prices of the updated WonderSwan retro consoles: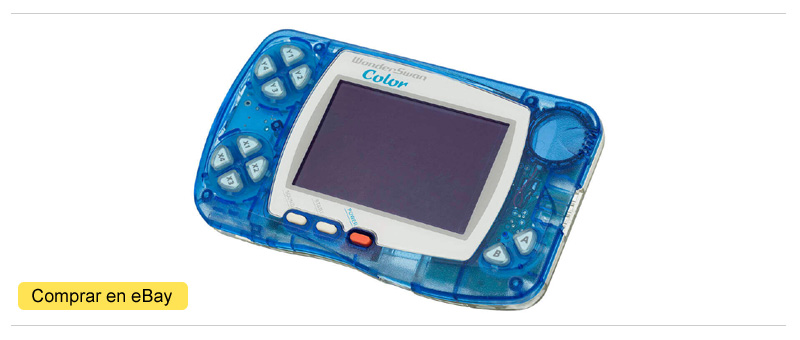 Now, given the prices of the console, the question we must ask ourselves before buying a WonderSwan is: Which WonderSwan model should I buy?
WonderSwan: Access to more than 100 titles. Cheap but with a poor quality screen. monochrome. Ideal to know the system.
WonderSwan Color: Access to the entire catalogue. Adjusted price, color screen but of poor quality (very dark/dim), advisable if you plan to play the console from time to time.
SwanCrystal: Access to the entire catalogue. It is not cheap but it has the best image quality, it is the appropriate console if you really want to enjoy the system and its catalog dedicating hours of vice.
As you can see, everything revolves around the quality of the screen. If we were in 2004 (the year this website was launched), I would tell you to buy the basic WonderSwan, the first one. But almost 20 years later the landscape of portable consoles has changed a lot… And so have we: With the WonderSwan there is no nostalgia factor as it happens with other consoles, so far from wanting the console to be the same as the We remember, what we are looking for is to get a good retro gaming experience on its original system. Unfortunately, the WS and WSC screens leave a lot to be desired for what we currently consider appropriate or directly playable, so our recommendation is clear: If you are going to buy a WonderSwan to give it a go, to play as your laptop reference for a while, buy a SwanCrystal, you will appreciate it.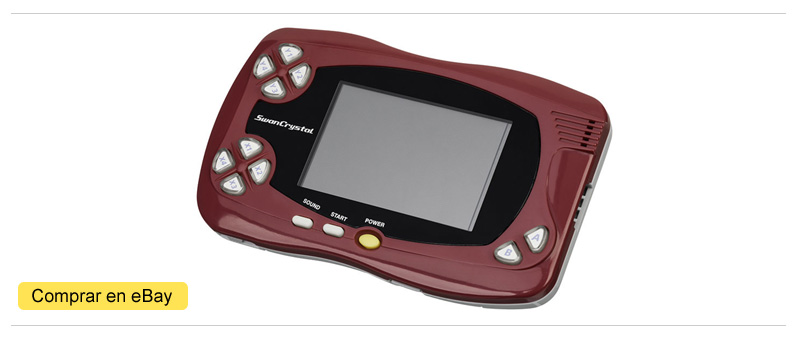 That said, we can only comment on the price of the WonderSwan video games. As you will see in the following link to eBay, the prices are not really expensive, considering that twenty years later they remain mostly well below the launch price, something that does not happen on other consoles. The question here is to select which one you are going to be able to enjoy and that is part of the charm of collecting imported consoles, so you know, once you have the console you have to search and enter the web calmly and planning until you find your jewel loss: Games of the WonderSwan Color on eBay.
One last point, if you have been in the world of console collecting for years, you may have been able to observe how the prices of the WonderSwan and its variants have become more expensive, it is true that this increase has happened in all systems due to the fever of the retro, but as far as the WonderSwan is concerned we must add a new factor: The WonderSwan has become fashionable, from being an unknown and highly localized system in Japan and with a low price (originally), the fact of being a considerably limited product and exclusive, together with the fans of everything Japanese from our generations, it has turned Bandai's retro console into an object of desire for all collectors and lovers of Japan, still being accessible to most budgets in its most modest versions, but that reaches exorbitant prices when we talk about complete consoles and limited editions. Keep this in mind when prioritizing your purchases.
STOP COLLECTOR! If you've seen the console listing on eBay, I want to say THANK YOU. Since 2004, the objective of Infoconsolas is to contribute to preserving the history of consoles and video games through our own collection of systems and the hours of work invested in this very website.

Being an eBay partner listing, if you buy a game or console, you will be helping Infoconsolas in the preservation of video game culture, so thank you very much again!
TOP: Best WonderSwan handheld console games
The WonderSwan is a 100% Japanese console and as such, the language barrier makes it meaningless to launch a TOP, since most of us will not be able to enjoy it or even play it. Consequently, below we leave you with a video of all the video games that were released for the first console, both commercially (103 titles) and non-commercial (promotional gifts, etc.), in this way you can see what their games are like. and get an idea of everything that this retro console can offer us today.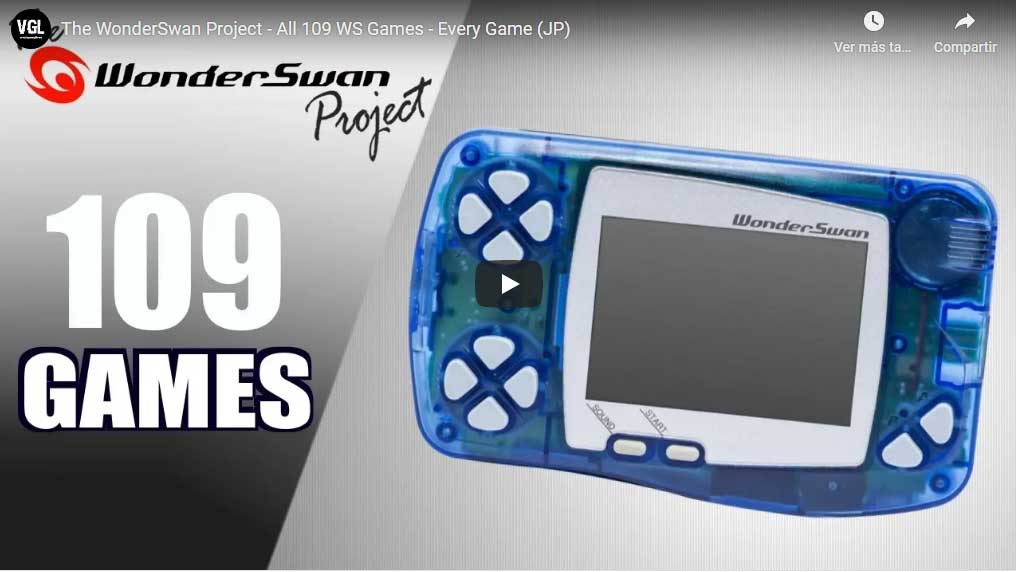 These are the games that came out for the original WonderSwan, but if what you want directly is a recommendation of playable games without the language barrier, here is a small selection of luxury (some are for the WSC):
Rhyme Rider Kerorican
Makaimura for WonderSwan
GunPey EX
Kaze no Klonoa: Moonlight Museum
Digimon: Anode/Cathode Tamer: Veedramon Version (en inglés)
Mingle Magnet
Rockman EXE WS
Wonder Classic
Judgement Silversword and Dicing Knight
FAQ Bandai WonderSwan
Below you have the most frequent questions and answers about WonderSwan consoles. Do not hesitate to contribute (with source please) in our comments! We will incorporate them. You can access the comments with your Google account and together achieve a FAQ that helps all those people who love video games and retro consoles.
How many video games were released for the original WonderSwan?
There are a total of 103 commercial video games.
How many video games were released for the WonderSwan Color?
86 commercial video games.
How many WonderSwan Color games are backwards compatible with the original WonderSwan?
17 games of the color version can be seen in grayscale in the first WonderSwan.
What are the differences between the WonderSwan, WonderSwan Color and SwanCrystal?
The WonderSwan has a monochrome LCD, the WonderSwan Color has a color STN LCD and the SwanCrystal has a TFT LCD
What generation of consoles does the WonderSwan belong to?
To the fifth generation of video game consoles.
What day was the WonderSwan released?
March 4, 1999.
What day was the WonderSwan Color released?
December 9, 2000
What day was the SwanCrystal released?
July 12, 2002.
How much did the WonderSwan cost?
4.800 yen.
How much did the WonderSwan Color cost?
6.800 yen.
How much did the SwanCrystal cost?
7.800 yen.
Are Wonder Swans compatible with each other?
Yes, with the exception of the exclusive games for the color version.
Is the WonderSwan handheld console a retro video game console?
Yes, when it was launched in 1999 it is considered a retro video game console.
Is the WonderSwan exclusive to Japan?
Yes.
How many units did the WonderSwan sell?
WonderSwan 1.55 million units, WonderSwan Color 1.1 million units, 400,000 SwanCrystal.
What was the last WonderSwan game?
Dicing Knight, released on May 31, 2004.
What does WonderSwan mean?
Wonderful Swan, this name was chosen to highlight its lines and aesthetics, while also highlighting the power of the system, like the swan that, thanks to its strong legs, takes flight from the water.
Was the WonderSwan really only released in Japan?
The truth is that no, small games were released in other countries like Hong Kong or South Korea, hence there are two titles adapted to English… But don't tell anyone that it's a secret.
Technical characteristics of the Bandai WonderSwan portable console
Below we leave you the technical characteristics of the WonderSwan, these characteristics have been obtained from wikipedia:
Size:

Main unit 74.3 x 121 x 24.3 (mm) When using AA batteries
Main unit 74.3 x 121 x 17.5 (mm) When using a dedicated rechargeable battery that is sold separately

Weight:

93 grams (without batteries)
110 grams (with batteries)

Batteries:

1 AA battery (lifetime approx. 30 hours)

CPU: Embedded to ASWAN 80186 equivalent (V30MZ core) 3.072MHz 16-bit operating clock
RAM memory: 16KB
Screen:

LCD: monochrome LCD (FSTN) designed to maximize battery life.
Definition: 224 x 144 pixels Size 2.49 inches
Colors: 8 shades of gray (out of a palette of 16)
Sprites 8 x 8 points up to 512
Number of sprites displayed 8 x 8 dots 128 on 1 screen, 32 on 1 horizontal line

Sound:

External output: Stereo with headphones (sold separately)
Volume: 2 levels and mute

Built-in EEPROM:

1 Kbit (128 bytes) write and read memory built into the main unit
It is used to store personal data (name, date of birth, gender, blood type) and game data.

Cartridge capacity:

ROM up to 128 Mbit
RAM up to 128 Mbit
External sources and links
Famitsu Magazine
Console graphic resources: